Dr. Rene Schumann - Specialist in Plastic and Cosmetic Surgery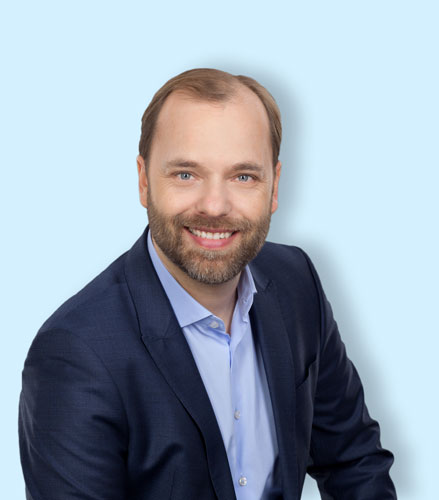 Dr. Rene Schumann (*1971) is a Plastic Surgeon, and the owner of YUVEO Clinic Dr. Schumann in Düsseldorf.
He has been working as the senior physician in the KaR in Düsseldorf from 2006 too 2013. The clinic, in addition to cosmetic plastic surgery, also actively practices reconstructive plastic surgery and hand surgery.
Dr. Schumann is a member of the Deutschen Gesellschaft der Plastischen, Rekonstruktiven und Ästhetischen Chirurgen (German Society of Plastic, Reconstructive, and Cosmetic Surgeons – DGPRÄC, formerly the Vereinigung der Deutschen Plastischen Chirurgen (Coalition of German Plastic Surgeons) - VDPC).
He is qualified for the designation of Specialist in Plastic and Cosmetic Surgery in Germany.
He is a member of the Ärztkammer Nordrhein (North Rhine Medical Association) and is therefore subject to the relevant vocational regulations.
He completed his degree at the Heinrich-Heine University in Düsseldorf at the beginning of 1999. He then began training as a plastic surgeon in the Clinic for Plastic Surgery in Florence Nightingale Hospital at the Diakonie Düsseldorf/Kaiserwerth, under the supervision of department head Prof. D. R.R. Olbisch (Plastic Surgeon). During this time, Dr. Schumann completed the dissertation he had begun during his degree, titled:
Comparative immunohistochemical Examination of T-Cell and Macrophage Infiltration of symptomatic and asymptomatic Stenosis of the Internal Carotid Artery.
(Neurological Clinic, Heinrich-Heine University, Düsseldorf. Director: Prof. Dr. H.J. Freund; Ph.D Supervisor: Prof. Dr. G. Stoll; Advisor; Dr. S. Jander)
He spent the following years (starting in the middle of 2001) working at the Clinic for Thoraic Surgery under Prof. Dr. M. J. Polonius (City Clinic Dortmund). He spent time from 2002 onwards working at the clinic for General Surgery, Orthopedics and Traumatology, Center for Minimal Invasive Surgery, (head doctor Prof. Dr. M.K. Walz (Evangelical Huyssens-Foundation, Essen-Mitte Clinic), and this work provided him with a solid surgical education.
Beginning in 2003, Dr. Schumann returned to plastic surgery – this time in Hagen. He trained to become a specialist in plastic and hand surgery under department head PD Dr. G. Erbs (Clinic for Plastic Surgery and Hand Surgery, St. Josefs Hospital, Hagen). A transfer to Dr. Thiem's Traumotology department allowed him to learn, among other things, traumatological osteosynthesis techniques. In the middle of 2006 Dr. Schumann, during his work in the department of PD Dr. Erbs, qualified as a specialist in Plastic and Cosmetic Surgery.
Treatment Range for Plastic Surgery
Dr. Rene Schumann offers the following operations and nonoperative procedures at the Klinik am Rhein (Clinic on the Rhein) in Germany (in Düsseldorf):
Breast surgery

Breast augmentation (inframammary, periareolar or axillary incision)
Breast reduction
Brest reduction for men (Gynecomastia)
Breast lifting

Body

Operative treatment of axillary sweating (hyperhidrosis)
Tummy tuck, abdominoplasty
Liposuction

Face

Rhinoplasty (open and closed)
Face lift
Neck lift
Eyelid surgery

Upper eyelid blepharoplasty
Lower eyelid blepharoplasty

Ear surgery
Chin augmentation (silicone implant or hyaluronic acid)
Cheek augmentation (silicone implant or hyaluronic acid)
Forehead lift
Buttock lift
Lip augmentation
Lip reduction

Arms
Leg

calf surgery

calf augmentation
calf reduction (muscular resection, liposuction and botox treatment)

Thigh lift (C- and T- incision, ...)
Liposuction

Injectable fillers (hyaluronic acid)
Botox ® treatment
and much more
Updated on 13.09.2020